Blog
REGISTER NOW
LOGIN
SIGN UP FOR OUR NEWSLETTER
The Toughest of them all…
Sometimes when you run a business you have to be hit over the head by your clients to do the right thing. This is certainly the case when it comes to running a successful tour in South America – at least in terms of 'what the people really want'.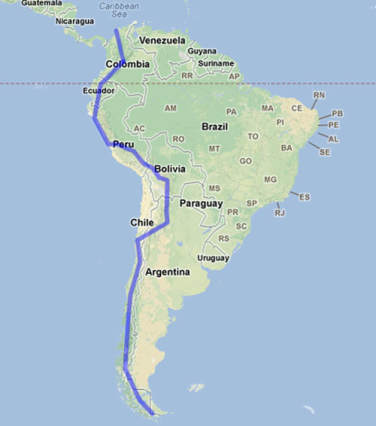 And what do people want? Well, of course, they want to cycle from the top to the bottom of South America. For a long time even we were reluctant. It would be the longest tour we have ever run, longer than anyone has ever run (and we already run the longest). It will take a mere five and half months and cover over 15,000kms. It will be possibly the most difficult tour ever attempted in terms of logistics and weather patterns. And we have not even mentioned the kind of elevation gains the cyclists might encounter.
But when you decide to create a challenge called the 7 Epics, you better do something spectacular, something that only very few valiant individuals will attempt and something that will honor the word epic. Here's an idea of what you can expect along the way.

So this is it – for the first time ever – beginning sometime in the summer of 2015, a cycling expedition will be run that will cover all of South America – The South American Epic. The intrepid participants will be cycling this amazing continent from tip to tip; starting in Cartagena, Columbia on the shores of the Caribbean; up and down the Andes 'a few times'; covering Ecuador, Peru, Bolivia, Chile and Argentina; exploring the Atacama Desert, Lake Titicaca and Machu Picchu; visiting some of the grand cities like Bogota, Quito, Lima, La Paz, Santiago; cycling through the stunning Patagonia region of southern Chile and Argentina, and finishing in Ushuaia, Tierra del Fuego on the shores of the Drake Passage.
.