Blog
REGISTER NOW
LOGIN
SIGN UP FOR OUR NEWSLETTER
A Sign of the Times
I pulled it wide open. Much to my surprise and horror, it turned out to be a ventilation / mechanical shaft that fell straight down 6 stories
As we pedal through this country I realize that India is our past, our present and, gulp, our future. I came across an interesting concept here that we in the West may want to keep in mind – jugaad. Roughly translated it means – the Indian way of making things work, just not in the manner they were designed for. This is a useful  approach in a country where entropy rules the day. Nothing is designed to last and when the inevitable decay begins, Indians use jugaad to make due.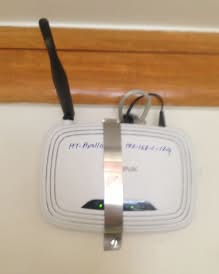 This concept makes their approach to life a little more relaxed. For example, on our ride down the Konkan Coast we were required to use a number of local ferries. At one stop, there was a big marriage party in full swing just a few metres from the ferry dock. A large number of people and vehicles were eagerly awaiting the ferry crossing. When the ship arrived, it disgorged the passengers, cars, trucks and motorbikes from the other side…and then pulled back and settled a few metres offshore. The crew then waded through the water to join in the wedding celebrations. With nothing else to do so did the Indian Adventure cyclists – dancing, eating and getting kisses from the bride and groom.
Of course there are drawbacks as well. We stayed 2 days in a modern, business hotel in the Karnataka city of Belgaum. It looked beautiful and clean and the rooms were large and airy. And the restaurant had amazing food and drinks. One evening I was walking down the hall to my sixth floor room and noticed that every once in a while there was a cheap, ugly door stuck in the wall. They had no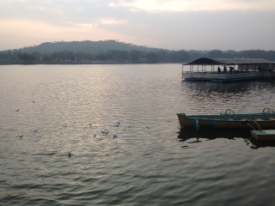 handles and no locks. Closer to my room I saw one slightly ajar and, being curious, I pulled it wide open. Much to my surprise and horror, it turned out to be a ventilation / mechanical shaft that fell straight down 6 stories. I went back and tried the other doors on my floor and they were all the same. Crazy. Or consider the server preparing our breakie at a waterside restaurant. He simply took about 20 large plastic water bottles and tossed them into the river, ruining an obscenely beautiful tableau of the rising sun.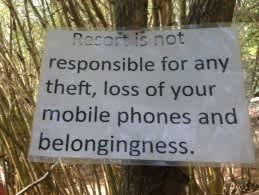 So keep an eye on India and study your jugaad. The future is just about to arrive. It pays to be prepared. To help you on your way take a look at these signs and follow the directions closely. What's the worst that can happen?