Blog
REGISTER NOW
LOGIN
SIGN UP FOR OUR NEWSLETTER
8 Reasons to Cycle Madagascar
Are you looking for a unique cycling experience that very, very few people have done? Here are eight reasons to cycle Madagascar – a place like no other.
1. The 8th Continent
Geographically isolated from the rest of the world for over 80 million years, Madagascar is a world unto itself. As a result, flora and fauna have developed independently from the rest of the planet. Animals and plants that have become extinct elsewhere live on here, the world's 4th largest island. Even more striking is the degree of endemism (species that occur nowhere else): tenrecs, fossa, upside-down trees, giraffe-necked weevils, 33 species of lemur. This unique development has led to the island being at times called the '8th Continent'.
2. Visit Tsingy De Bemaraha
I can't think of better way of putting it than Lonely Planet: "There is nothing else on earth like the jagged limestone pinnacle of Parc National Des Tsinghy Bemahara. A – World UNESCO Heritage Site, the serrated surreal- looking peaks and boulders are a geological work of art".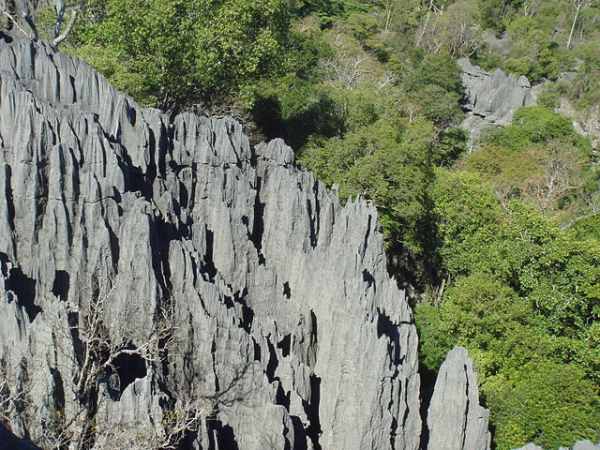 Flickr photo by Tsingy – 156
3. Cycle the Avenue of Baobab
Continuing on the subject of there is nothing like it anywhere else; cycling the Allee de Baoab at sunrise or sunset flanked on both sides by 1,000 year old baobab trees is one of those moments that will stay in your memories for the rest of your life.
4. See the lemurs of Madagascar
Is there a better wildlife adventure than coming across an animal you have never seen before be it an Idri lemur that sings like a whale, to a Sifaka lemur ballet dancing across sand. Lemurs are thought to have developed in Madagascar from early primates. There are 60 species and subspecies of these primates, some active during the day some at night with new species still being found. Who knows maybe if you cycle silently you will be the one who will find new species.
5. Experience the Cultural Melting Pot
What better way to experience the culture of this island than experiencing the cultural diversity from all corners of Indian Ocean, each bringing its own customs, believes and cuisine putting it into the pot and then awaiting you to taste it.
6. Cycle the (in)famous RN5
It has been called world's worst road, a track, a quagmire, an obstacle course, crossing rivers without bridges, but what better way to undertake this memorable adventure than on a bike. You are bound to see stuck vehicles as you smile and move on. And most important you will have stories for a life time and even an opportunity to see an aye-aye lemur.
7. National Parks and beaches
No matter what is the route you decide to cycle on this island you are close to a national park or a reserve with vast array of unusual sights and sounds to explore, from primates and mammals such as the legendary Fossa and the Ring tailed Mongoose to birds such Madagascar Hoopee and colorful Helmet Vanga. As you continue cycling you are never too far from a great beach to rest your tired bones and then explore an array of marine habitats which include coral reefs, mangrove forests and seagrass beds and the reptiles and amphibians that live there.
8. Madagascar is a Hot Spot
Yes, it is but not the kind you imagined. Madagascar is a biodiversity hot spot that is defined as a biogeographic region that is an area significant in its biodiversity riches but is also threatened by human activities. Madagascar is one of the 25 areas of the world that has lost at least 70% of its original habitat. Cycling Madagascar will give you a firsthand experience of the tasks humanity is now facing in order to preserve the world's natural riches and hopefully motivate each and every cyclist to contribute to this monumental task. After all when humanity arrived in Madagascar 2,000 years ago there were lemurs there as large as gorillas.
Click here to join us on the 2016 8th Continent bicycle expedition in Madagascar.