Blog
REGISTER NOW
LOGIN
SIGN UP FOR OUR NEWSLETTER
Thank You to our Lake Winnipeg Partners
After we announced our ambitious Last Degree expedition we started looking for partners to help make it work. Fat biking, Antarctica, and winter camping were far outside our area of expertise. We worked with a company called ALE in Antarctica to plan a fat bike tour that was feasible, then we started looking for appropriate sponsors.
The idea of sponsorship always seemed intimidating, and frankly against our nature. It is important to us to maintain our style of cycle tours, so we chose partners carefully. With the Lake Winnipeg training trip now complete (read 'We Survived Lake Winnipeg') it is evident that we chose our sponsors well. In particular we were lucky to find partners that had the products we needed, and happened to be nice people too.
I wanted to personally thank Beth at Specialized, Kurt at 45nrth, Tiffany at Canada Goose, and all the other people at the companies that provided support for our event.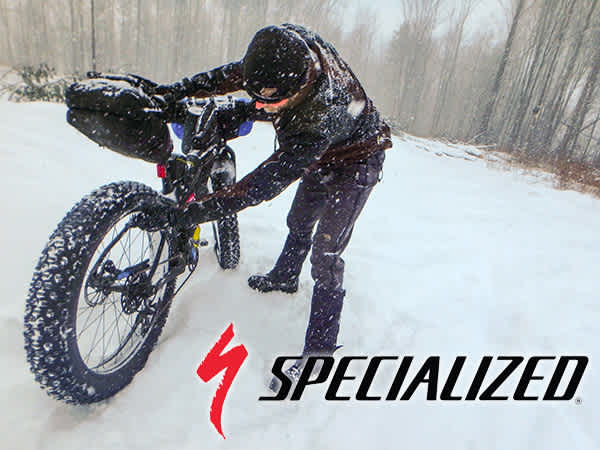 We were introduced to Beth Welliver through a former participant of the Tour d'Afrique that happened to work at Specialized. Beth was eager and enthusiastic to be a part of this – so much so that she not only provided all the bikes for Fat Bike Lake Winnipeg (including the women's specific Hellga for our female riders) but also came to the event as a participant herself!
And it didn't stop there.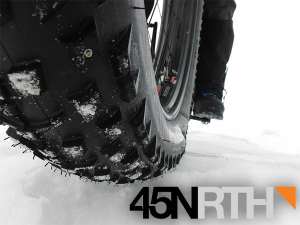 The riders who completed the event and who eventually participate in the South Pole expedition will receive a brand new Specialized fat bike – their's to keep after Antarctica. Specialized has been more than a sponsor, Beth was actively involved in the preparation for the event – ensuring that the bicycles were shipped on time, and in the right sizes and sorted out some hitches at Canadian customs.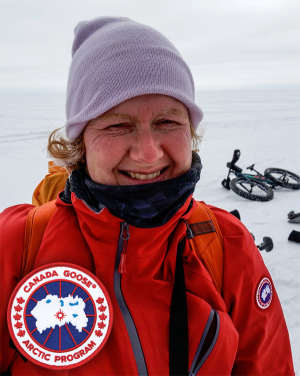 I met Kurt Barclay from 45nrth in Minneapolis at the Winter Bike Expo last fall and without hesitation he wanted to be involved. It was already deep into the winter fat bike season, but he found enough sets of their top of the line Dillinger 5 studded tires to outfit each of the bikes for our Lake Winnipeg event.
I also discovered that Canada Goose does not only have puffy, and stylish parkas – they make top quality active wear too, like the Timber shell jacket they supplied to each of the Lake Winnipeg participants.
What the Tour Leader had to Say
I asked Cameron Dube – part of the two man leadership of this event alongside Ben Shillington – what he thought of this equipment. Here's what he had to say…
On Specialized..
Unbelievable service and quality from [Specialized] and from Beth, who was pro the whole time. Bike quality and sizing was bang on. The Fatboy's and Hellga's performed flawlessly during our week on Lake Winnipeg, where conditions varied from 0°C to -35°C. This typically makes for trying conditions with regards to components freezing and things snapping but we had no worries out there.
On 45nrth…
The studded tires were great and much needed on certain surfaces. Studded Dillinger's are the way to go for lake ice fatbiking travel. During the Lake Winnipeg Fatbike tour we received the full gamut of snow and ice conditions and not once did we question the capabilities of these studded tires. From smooth black ice to punchy wind-loaded drifts, the Dillinger's were fantastic. Their suppleness in cold conditions made it possible to change a tire with liner gloves on, in the cold.
On Canada Goose…
Great jackets that I think everyone was very pleased to have on-trip. The Timber Shell  will live in my "do-not-leave-at-home" pile and will become a staple in my winter fatbiking adventures.  It fit nicely over my puffy coat when temps dropped to -35°C, blocking the wind while keeping my body warmth trapped inside.
Thanks also to the generous contributions from GoalZero who provided two solar charging units that came in very hand, to Woodcock Cycles who received the bikes, assembled them and installed the 45nrth studded tires, Apidura who provided frame bags for our media riders, Clif Bar (who previously helped us on the North American Epic) who provided bars for our time on Lake Winnipeg, and Nalgene whose handy durable bottles accompanied each rider out on the lake.