Blog
REGISTER NOW
LOGIN
SIGN UP FOR OUR NEWSLETTER
FIVE REASONS TO CYCLE THE GRINGO TRAIL
South America is on many of our life long bucket lists of places to visit. We have created the perfect section for those who can't do the whole 5 1/2 month long South American Epic Cycling Expedition but want to experience the culture, see some sights, challenge themselves and walk away feeling like they accomplished something amazing!
Here are five reasons to cycle The Gringo Trail from Lima to Cusco in Peru.
1 – Not Your Typical Gringo
Riding your bike through South America is definitely not the usual way people do their trips. More often then not you see the photos your friends posted on social media enjoying themselves on the beach, wearing flip flops with golden tans and a spectacular view in the background. That's all well and nice but why not do things a little differently.  If you are thinking about embarking on The Gringo Trail section of the South American Epic then your photos could look a little more like this.
2 – Two Big Bucket List Sights
If you embark on this journey you will finally get the chance to visit the royal estate of Machu Picchu and the mysterious Nazca Lines in the Nazca desert. We have written about these beautiful and historic places before but The Gringo Trail is an ideal choice if those are some of your top South America destinations.
3 – Get The Strongest You've Ever Been, Thanks To The Andes
The Andes mountains are no joke when it comes to climbing. The Gringo Trail will get you a hefty taste of what it's like to cycle the highest mountain range outside of Asia. What this means is you will never look at a tiny hill the same again, you wont be afraid of any other climb you encounter and you might even leave with rock hard legs of steel (legs of steel are not guaranteed).
4 – Lima's Puente De Los Suspiros (Translated, The Bridge Of Sighs)
This landmark bridge is located in the bohemian Barranco district of Lima. It's said to be the most romantic district in Lima, drawing in lovers, poets and musicians to the area. The bridge was built with a simple intention, to cross the Bajada de los Baños which leads locals and visitors to the beautiful views of the Pacific. Over the years it's reputation started to build as a magical place to visit.  It's said that if you hold your breath while crossing over it all your life long wishes will come true (or so they say…)
5 – Sea Lions
Have you ever seen a sea lion in the wild? If you have then you might have noticed how much they look very similar to your neighbours dog, the Labrador. They not only look like mans best friend they really do have multiple similarities. These magnificent animals have the ability to walk on all fours, have short, thick hair, and big belly's filled with food. If you are lucky you might have the chance to see these dog like creatures multiple times on the tour. Though,  instead of stopping to give them a pet along the way, we would advise you to admire them from afar. They tend to be slightly more grumpy then the Labrador we all know and love, after all they do have to hunt for all their own food.
RELATED
TOUR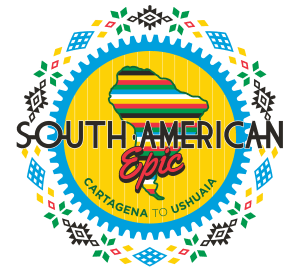 South American Epic
This challenging expedition offers you the best opportunity to explore the vastness and diversity of South America by bike. In keeping with the TDA...