Blog
REGISTER NOW
LOGIN
SIGN UP FOR OUR NEWSLETTER
A New Book About Leonard Cohen, Friendship and TDA
"There is a crack in everything. That's how the light gets in." – Leonard Cohen
Leonard
Leonard Cohen and I did not share much but we both went to Montreal's McGill University and walked through some of the same buildings, though he was there a generation before me. Apparently, when Cohen was at McGill, he ran to become President of the Debating Society. The story goes that once he got elected, his first act as the President was going to be to ban debating. I no longer recall whether I read or heard this somewhere, but often on my travels around the world, whether on TDA cycling tours or even hitchhiking through Europe when I was 19 years old, I entertained my listeners with that story.
Friendship
I met Michael Posner when he was a reporter for Maclean's magazine in the 1980s. I was running a small NGO that worked in the Horn of Africa and Michael contacted me to do an interview about what was going on there. We became friends, then collaborators on films scripts that we tried to sell to Hollywood, and eventually even better friends. In early 2002, I told Michael that I had decided to go ahead and organize a bicycle tour from Cairo to Cape Town, an idea he had found wonderfully adventurous the first time I mentioned it to him a decade earlier. I invited Michael for coffee to get some advice on how to spread the word and get some publicity. By this time, Michael had moved on with his career, writing a few books but also working with The Globe and Mail, Canada's premier daily newspaper. To my complete and unexpected surprise, Michael proclaimed, "It's a great story, I will get you an article in the Globe". Michael recounts these events in a video we made in 2019.
I found the whole thing hard to believe. After all, why would a story about two guys trying to cycle across Africa from Cairo to Cape Town be worthy of an article in Canada's leading paper? In fact, I asked Michael not to humour me but he insisted that once we were ready to announce the trip, I should let him know. He would then interview my then business partner and me. A couple of months later, Michael arrived with a photographer, interviewed us and told me that we will be on the front page of the weekend edition. On the appropriate Saturday, around 9AM, I received phone call from Michael. He was very apologetic but I had some previous experience with the media and knew that a writer is not the person that decides whether a story runs or not. So I told Michael, it's ok, as he repeated how sorry he was. He said "you are not on page one" and then he blurted "you are on page three." The rest is history. Within 24 hours, we had emails from as far away as Australia and Japan, from riders wanting to join the inaugural tour. The trust and credibility that Michael and the Globe gave us, more than anything else, allowed for the possibility of the tour and thus our company to happen.
The Book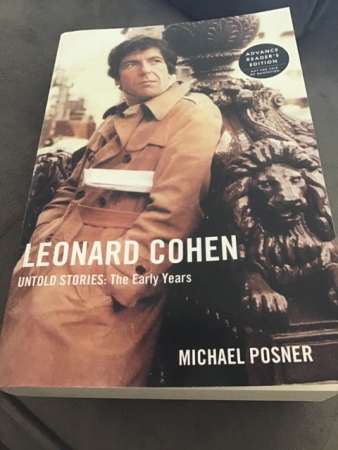 Years go by and Michael and I are still good friends, periodically meeting to have a coffee or a meal, or at a family gathering where we talk about the world, conspiracies – one of Michael favoured subjects – when will he join one of our tours and, of course, his work. For the last four years Michael's life has been taken over by a project, or rather a book, that was growing from month to month, to the point that some of us close to him thought of it more of an obsession and started worrying about him. The amount of material grew and grew, there was no publisher and Michael was spending a lot of his money on research and travel for the book. But then suddenly, Michael's agent died and a publisher who had originally rejected the manuscript changed their mind and a deal was struck. It has been a long journey but this month the book "Leonard Cohen, Untold Stories: The Early Years" – is out. I should clarify, the first volume is out!
One of the first questions I asked Michael now that the book was out was, do you know if Leonard was a cyclist? Is there a photo of Leonard on a bike? In response, he sent me a shot of the troubadour on a tricycle.  So apparently there is no testimony – visual or oral – that Leonard, unlike another troubadour Bob Dylan, was a cyclist. Nevertheless, I believe he was a cyclist, at least in spirit. Who else would pen the line: "Like a bird on a wire, like a drunk in a midnight choir, I have tried in my way to be free." He was also a wanderer and, at least to me, a kindred spirit. At times, when on our tours, things weren't going too well (and some of you will remember those days very well), I would recall Cohen's words: "When things get really bad, just raise your glass and stamp your feet and do a little jig. That's about all you can do." Something that applies also to the situation that we, and much of the world, find ourselves right now.