Blog
REGISTER NOW
LOGIN
SIGN UP FOR OUR NEWSLETTER
Going Places I Have Never Been Before
"On the road again
Just can't wait to get on the road again
The life I love is makin' music with my friends
And I can't wait to get on the road again
On the road again
Goin' places that I've never been
Seein' things that I may never see again
And I can't wait to get on the road again
On the road again
Like a band of gypsies, we go down the highway
We're the best of friends
Insisting that the world be turnin' our way
And our way"
– Willie Nelson, 'On The Road Again'
Willie Nelson sure captured the sensation of being 'On the road again' that participants on our Great American Roadtrip are experiencing. After 18 months of being lost in the middle of the forest, we are 'like a band of gypsies, we go down the highway.' Well, preferably not down the highway but on a quiet country road. We have already become 'the best of friends, Insisting that the world be turnin' our way'.
A few days ago, we started the Great American Roadtrip at the end of Route 66 at the pier in Santa Monica, a few of the riders even dipping their tires in the Pacific. Now, after cycling through the many suburbs of Los Angeles, catching a glimpse of Hollywood, the gigantic Church of Scientology and finishing with a ride through Joshua Tree National Park, we are rehydrating at the Best Western in Twentynine Palms.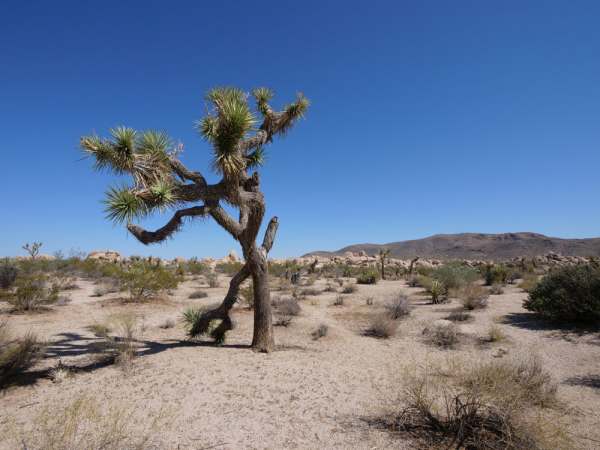 With sincere apologies to the Church of Scientology, I have to say that cycling Joshua Tree National Park was the highlight. No wonder Bono was inspired in 1987 to create an album called The Joshua Tree that has become one of the bestselling albums of all time. Interestingly, and something that is very appropriate to our cross-country tour, according to Wikipedia that album inspired U2 with a  "fascination with the country, its open spaces, freedoms, and ideals".
I must admit that the original plan was not to cycle through Joshua Tree National Park but rather to pedal through the Los Angeles and San Bernardino National Forests, a much more challenging route. But as the old saying goes, 'Man plans and God Laughs.' Due to an intense fire season and a decision by the authorities to close the forests, we were forced to do what we often do, make new plans on the fly. After all, we are an expedition company, and expeditions, by definition, rarely go according to plan. And I don't mind saying it, is there a better way to get back to what we were doing 18 months ago, than to jump back into a pressure cooker, restart what we were doing so well before and move on with life? To quote Emily, our tour leader, at our first lunch spot, "it felt so natural, so at home to be doing this again."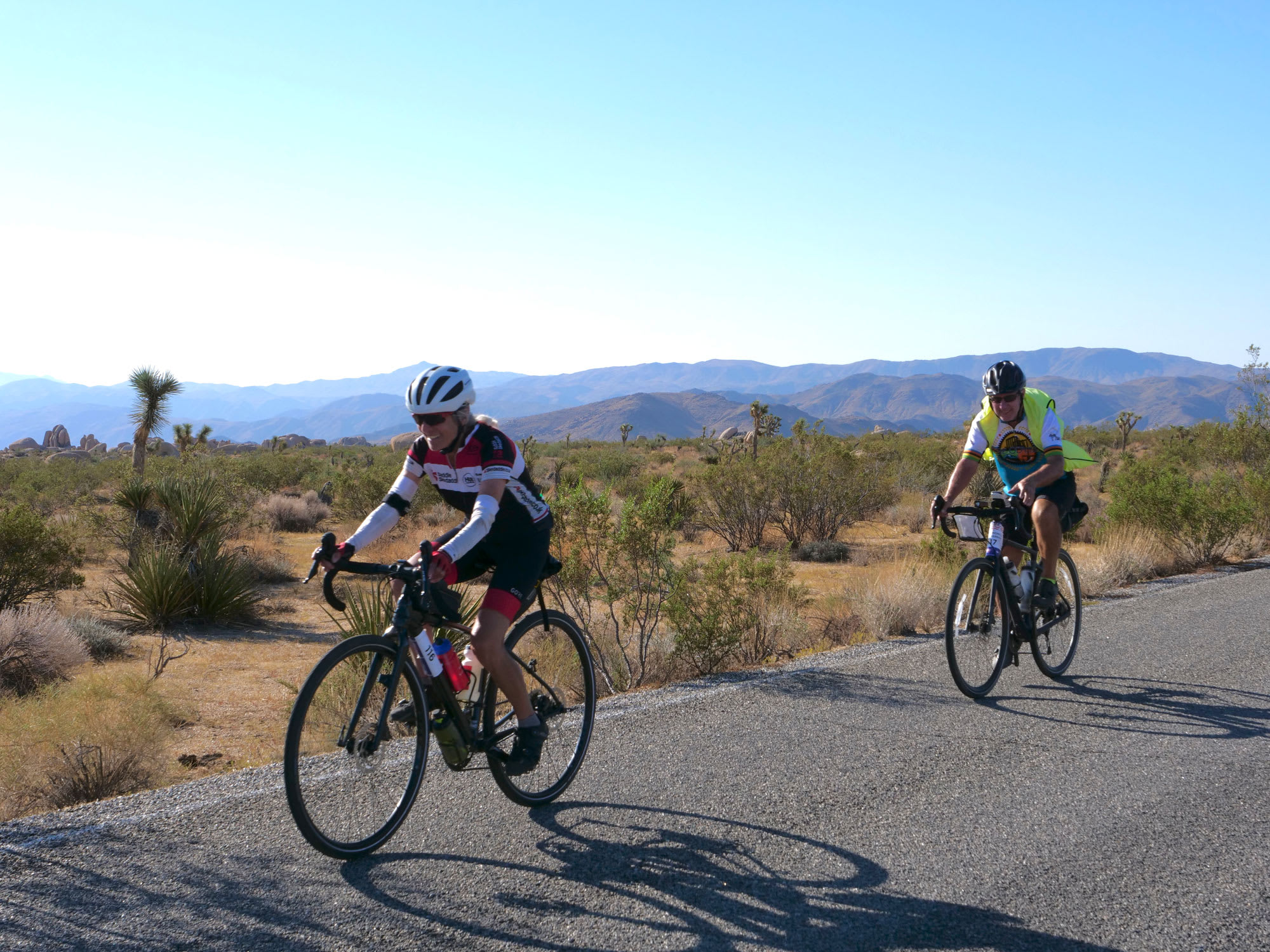 And so, we are here in Twentynine Palms, a place not without its charms. I mean there must be something about a place that inspired a song like, 'The Lady from 29 Palms', that even Frank Sinatra, 'Ol' Blue Eyes', sang:
"She left twenty-nine broken hearts
Broken in twenty-nine parts
Now there are twenty-nine fellas complainin' to their moms
About the lady from 29 Palms
She got twenty-nine Cadillacs
Twenty-nine sables from Sak's
They came from twenty-nine fellas who never had their arms
Around the lady from 29 Palms
She's a yip-yip-yippy-eyed dolly
A new kinda gal of the west And yip-yip-yippy by-golly
Whatever she does, she does her best
She rides twenty-nine trails to bliss
Knows twenty-nine ways how to kiss
She is a gal that you dream of, you'd love to have your arms
Around the lady from 29 Palms"
And it is not just musical artists that the town has inspired. Twentynine Palms is also featured in several movies like, 'A Mad, Mad, Mad, Mad World', 'Kiss Me Stupid' and even a horror flick called, what else, 'Twentynine Palms'.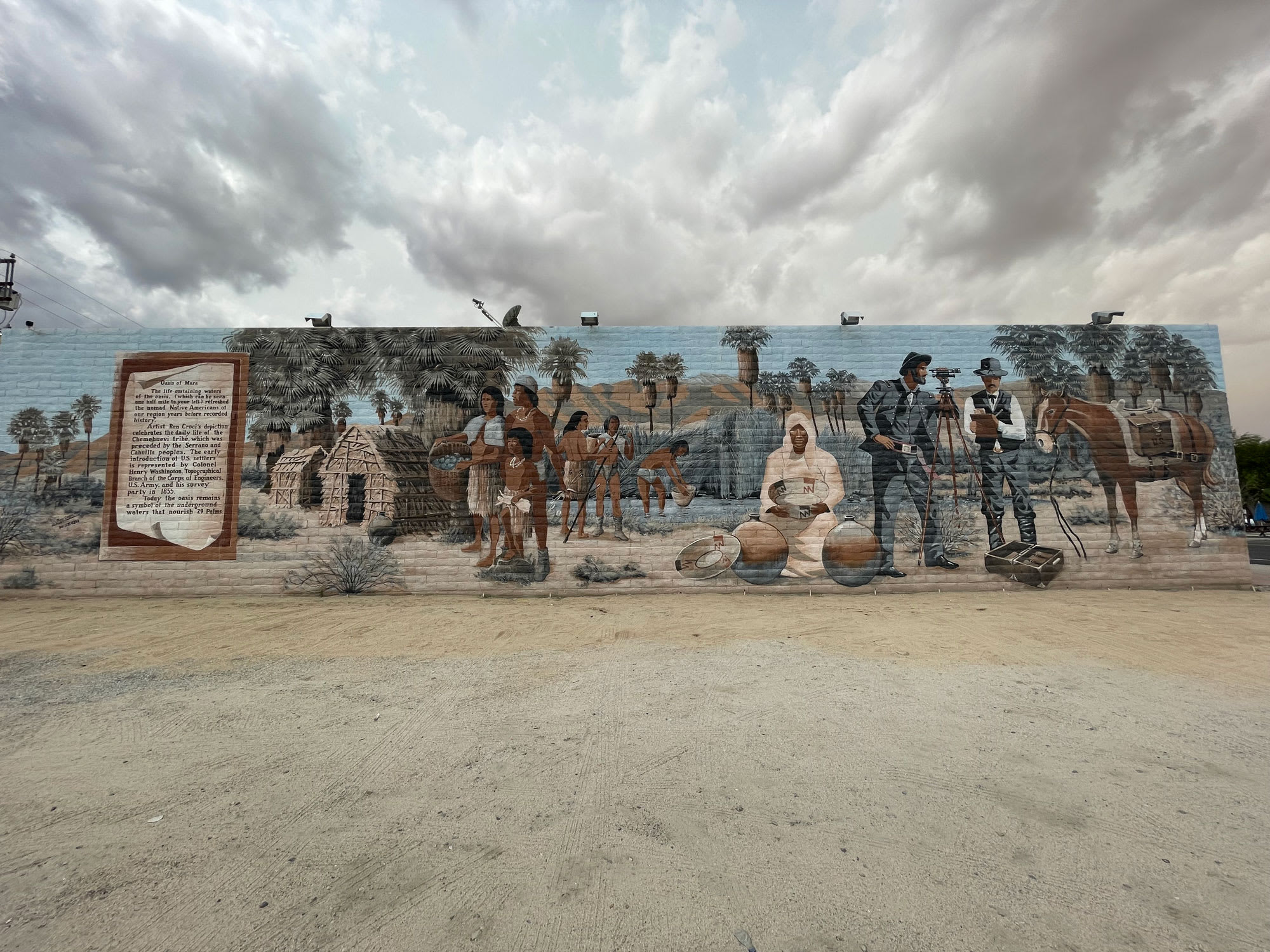 There is more. There is a novel based on a true story about a native from Twentynine Palms, 'Willie Boy: A Desert Manhunt' and a subsequent movie based on the book called, 'Tell Them Willie Boy is Here'. Not to be overlooked is a series of 26 outdoor murals painted on local buildings featuring various aspects of desert life and history. This afternoon, I went on a five mile (that is 8 km) walk to view them all. I could have cycled but tomorrow is another day on the road. To quote another talented songwriter Max Weber:
"On the road confirms something about myself
Confirms something about my storm –
Some say it needs freedom
Freedom some say
Is After the storm"
RELATED
TOUR