Blog
REGISTER NOW
LOGIN
SIGN UP FOR OUR NEWSLETTER
10 Hidden Gems along the Trans-Caucasus
You may have missed it. While we were busy getting our first pandemic-era tours underway in Europe and the southern US, we quietly posted a new and exciting tour called Trans-Caucasus. Now that we have had time to catch our breath, I wanted to tell you a bit about this new adventure along an old route of ours.
>>Find the Trans-Caucasus dates, details and pricing here
We used this route in 2007 for our very first Silk Route cycling adventure that took cyclists east through Georgia, Azerbaijan and across the Caspian Sea (instead of our current routing via Iran). Since we aren't able to run the entire Silk Route next year (we have postponed that to 2023 – see our updated calendar) we thought this was an excellent opportunity to return to a beloved route.
I personally have some of my fondest (and most exhausted) memories of cycling remote mountain roads in eastern Turkey, and experiencing the wonderful food, wine and scenery of the two Caucasus countries of Azerbaijan and Georgia. So here are a few more things you might not know about this fascinating route.
1. Qobustan Rock Art, Azerbaijan
At the end of our first day of riding we will reach the town of Qobustan and for those who still have some energy left, you can arrange a trip into the Gobustan Rock Art Cultural Landscape. Listed as a UNESCO World Heritage Site, you can walk around this incredible site and ponder the long history of humans in the area…
"Gobustan Rock Art Cultural Landscape covers three areas of a plateau of rocky boulders rising out of the semi-desert of central Azerbaijan, with an outstanding collection of more than 6,000 rock engravings bearing testimony to 40,000 years of rock art. The site also features the remains of inhabited caves, settlements and burials, all reflecting an intensive human use by the inhabitants of the area during the wet period that followed the last Ice Age." from UNESCO.
For those that don't want to risk missing this site after a day of cycling, tours can also be arranged pre-tour from Baku.

2. Sheki Caravanserai, Azerbaijan
One of the coolest places we stayed on the Silk Route back in 2007 was the caravanserai in Sheki. This is not a luxury stay by any means. It's a step up from bush camping as there are basic toilets and showers, but the rooms are sparse and what you are really getting is a chance to step back in time.
"A caravanserai was a roadside inn where travelers could rest and recover from the day's journey. Caravanserais supported the flow of commerce, information and people across the network of trade routes covering Asia, North Africa and Southeast Europe, most notably the Silk Road." from Wikipedia.
For traders heading to or coming from Europe through the Caucasus, the caravanserai was their motel to rest and hitch their animals for the night before continuing on their arduous journey. So our cyclists will be no different – hitching their bikes and getting some rest before continuing their cycling adventures.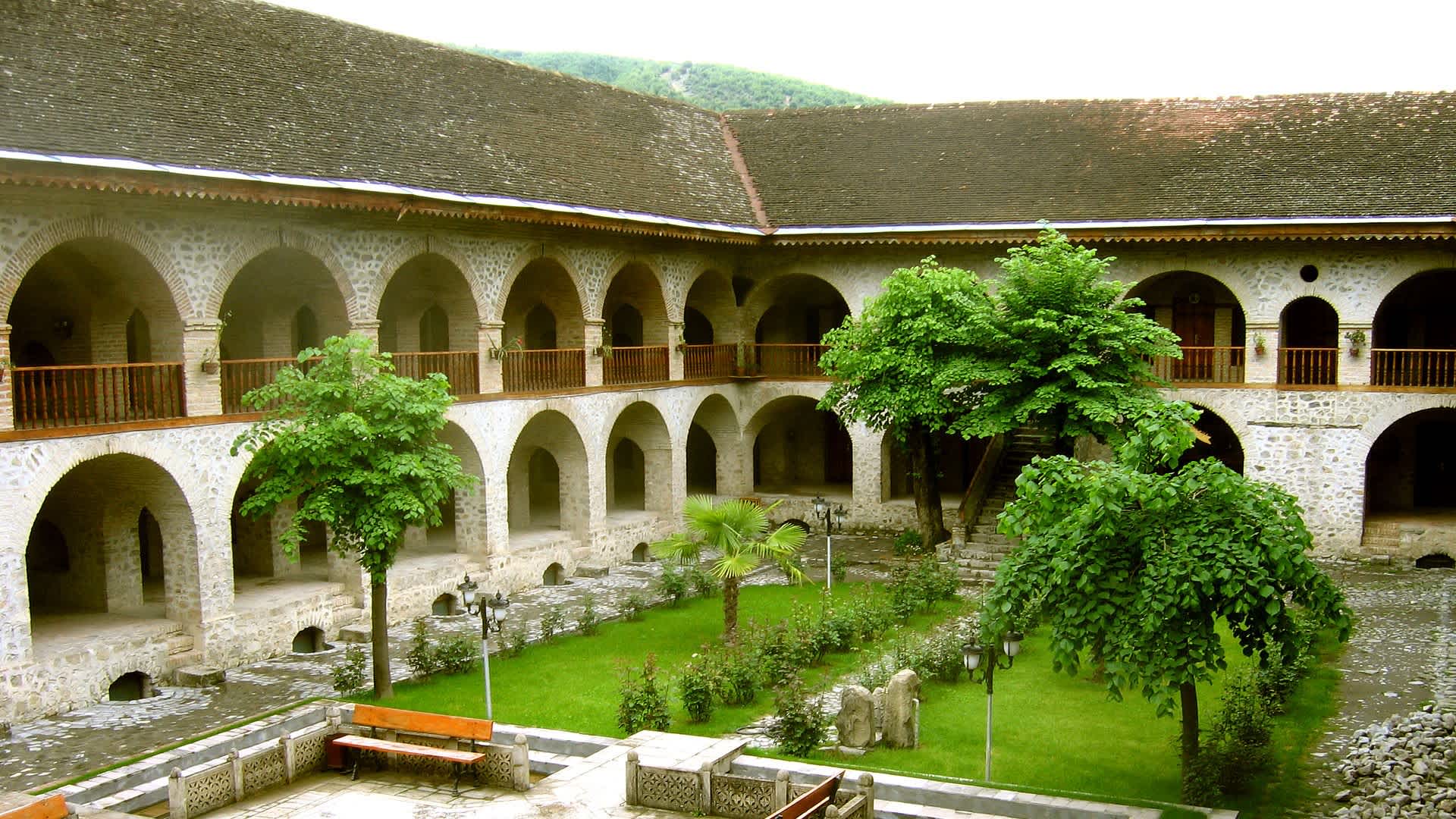 photo credit: Caravanserai Hotel by Gilad Rom under Creative Commons CC BY 2.5
3. In the Foothills of the Greater Caucasus
The Greater Caucasus are our constant companion sitting to the right of our route over the first couple weeks of the tour from Baku and through Azerbaijan and most of Georgia. We cross the lesser Caucasus to enter Turkey. The Greater Caucasus certainly make for challenging riding with lots of elevation gain and some steep ascents with rewarding views and screaming downhills on the other side.
"Spectacular mountain scenery, wonderful walks and picturesque old villages with strange defensive towers are all part of a trip to the southern side of Europe's highest mountain range." from Lonely Planet.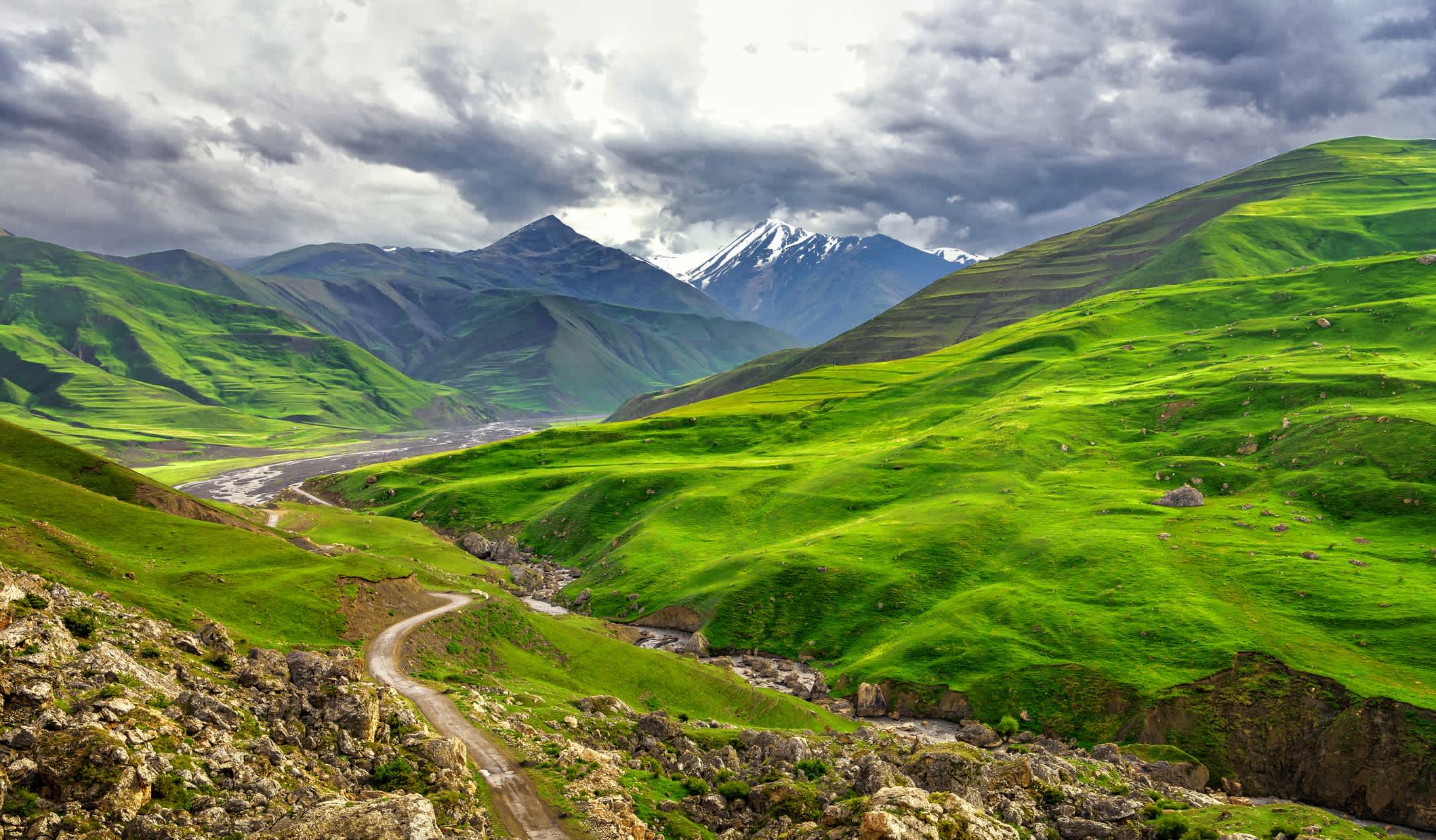 4. Lagodekhi  Nature Reserve
Our first stop in Georgia is Lagodekhi – one of the countries natural treasures.
"Lagodekhi National Park, is one of the most unique and diverse national parks in Georgia. Located in the eastern part of the country, on the borders of Dagestan (Russia) and Azerbaijan, the park has a sub-tropical climate that most travelers would never have expected to find in this part of the world…a place for intrepid travelers and curious locals looking for challenging adventures with beautiful rewards." from Meanwhile in Georgia.
5. Fortresses of Georgia
I remember turning a bend in the road and this magnificent castle loomed high above me. Khertvisi Fortress – which we pass towards the end of day 8 – is one of several fortresses that are spread across the Georgian landscape. According to Wikipedia "There are over 100 castles and forts in Georgia, which were constructed between the years 800 and 1700 by various provincial kings."
"Khertvisi fortress – Middle age castle is located in village Khertvisi, on the estuary of rivers Paravani and Mtkvari, on a tall rocky mountain…was an active fortress during feudal ages…The fortress consists of the citadel and a wall. Citadel stands on a narrow, rocky edge of the mountain, it is not approachable from the northeastern side. Water was supplied by a tunnel on a northwestern side." from Georgia Travel Guide.
6. Flavours of Georgia
I love cycling in this part of the world and a big reason for that is the surprising variety of flavours I didn't expect to find. I couldn't agree more with how Georgian cuisine was described here…
"…it's hard to find dishes anywhere that so deftly intermingle Eastern and Western techniques: platters of soup dumplings, called khinkali, are as big an attraction in Tbilisi as they are in Shanghai, while Georgia's supple flatbreads parallel India's best naan, puffed and scorched on the inner walls of traditional clay toné ovens. The similarities aren't coincidental. Sitting at the midpoint of ancient East–West trade routes, Georgians had the advantage of being able to cherry-pick the best of what the Greeks, Mongols, Turks, and Arabs were cooking along the Silk Road. When Russian poet Alexander Pushkin asserted that "every Georgian dish is a poem," I like to think he wasn't referring just to flavor and artful presentation but also to the coalescence of cultures on the plate." from Serious Eats.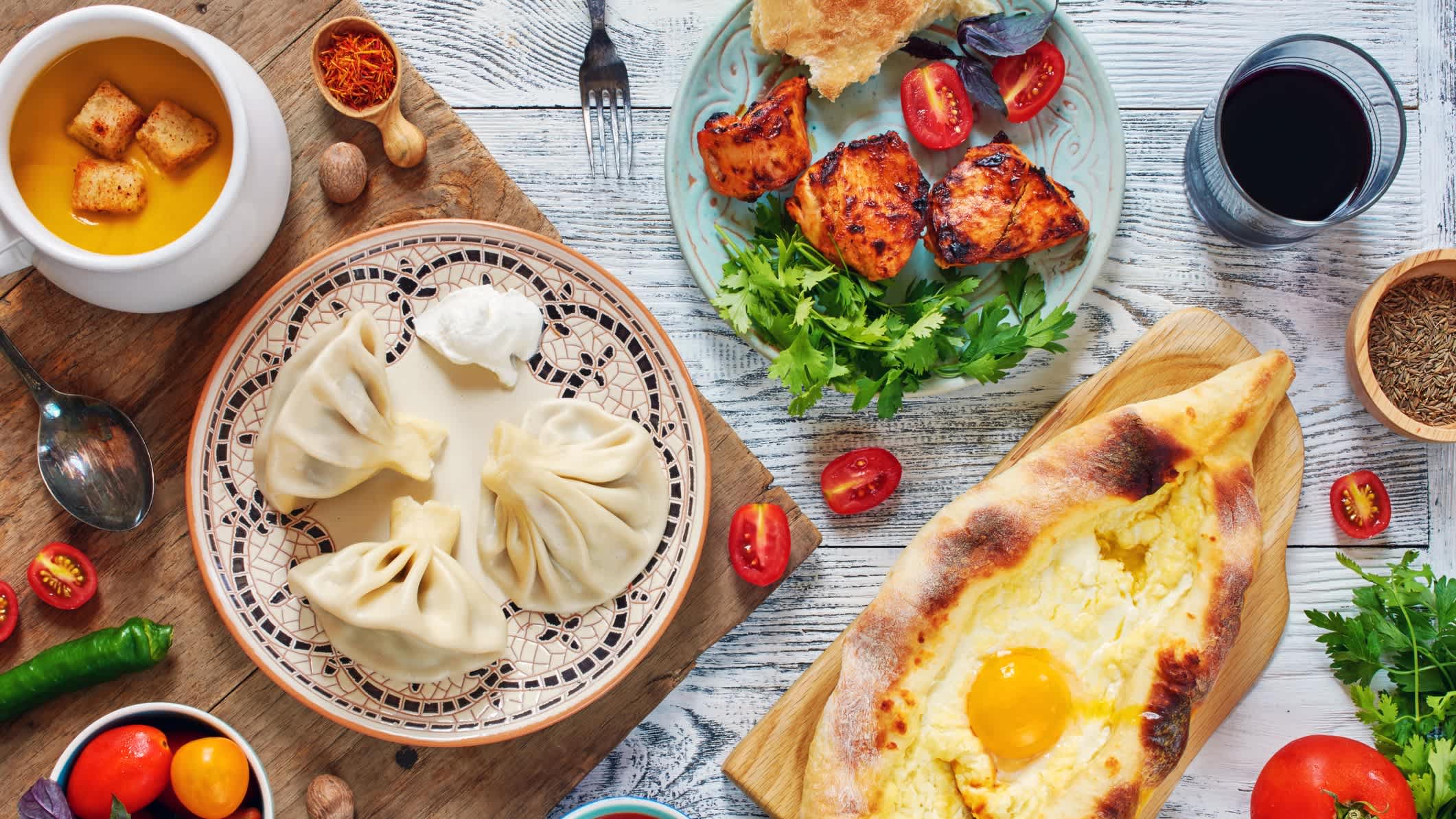 7. Kakheti Wine Region Georgia
On our way to Tbilisi, we cycle straight through the heart of Kakheti. Many of the wineries still employ an ancient technique in wine making using a 'kvevri'…
"Kvevri (also known as churi in Western Georgia) are large earthenware vessels used for the fermentation, storage and ageing of traditional Georgian wine. Resembling large, egg-shaped amphorae without handles, they are either buried below ground or set into the floors of large wine cellars. Kvevris vary in size: volumes range from 20 litres to around 10,000." from Wikipedia
I found an old entry on our blog from back in 2007 that brings me back to my experiences in Kakheti…
"Some rolling hills and a decent climb were followed by a fun downhill (nice, winding, fast and offering some great views)…situated in some of Georgia's wine and cheese producing areas. There were vineyards and castles to view and large blocks of cheese and delicious fresh bread available on the side of the road to sample." from our blog in 2007.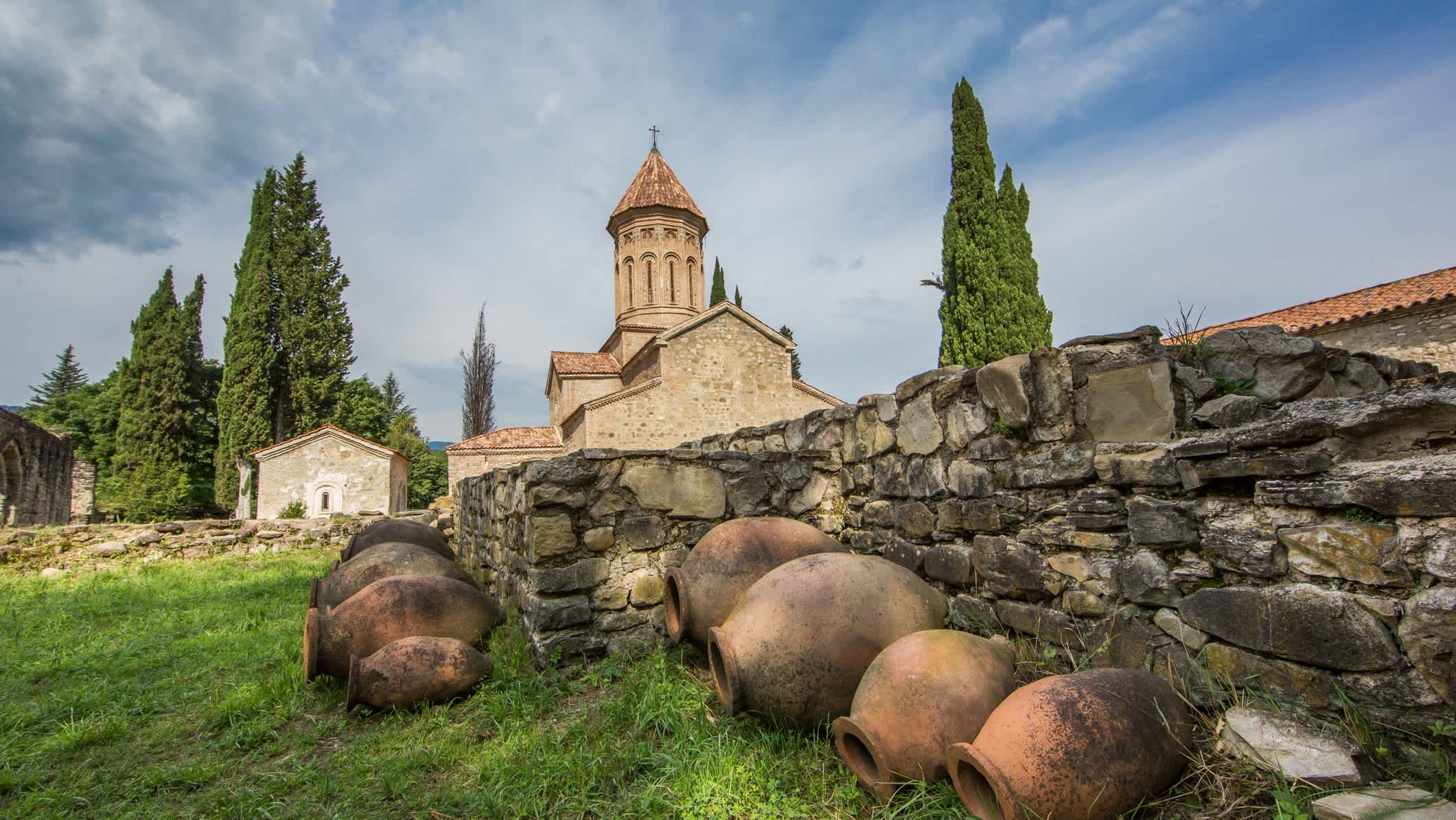 8. Tbilisi, Georgia's Capital
Besides Istanbul, Tbilisi is perhaps the most culturally rich and diverse city along the entire route. With its variety of restaurants, museums and galleries Tbilisi definitely has a European flavour to it.
"With its dramatic valley setting, picturesque Old Town, eclectic architecture and superb eating and drinking opportunities, Tbilisi is the vibrant, beating heart of Georgia and home to more than one in three of its citizens…Tbilisi is confidently sealing its reputation as the South Caucasus' most cosmopolitan city." from Lonely Planet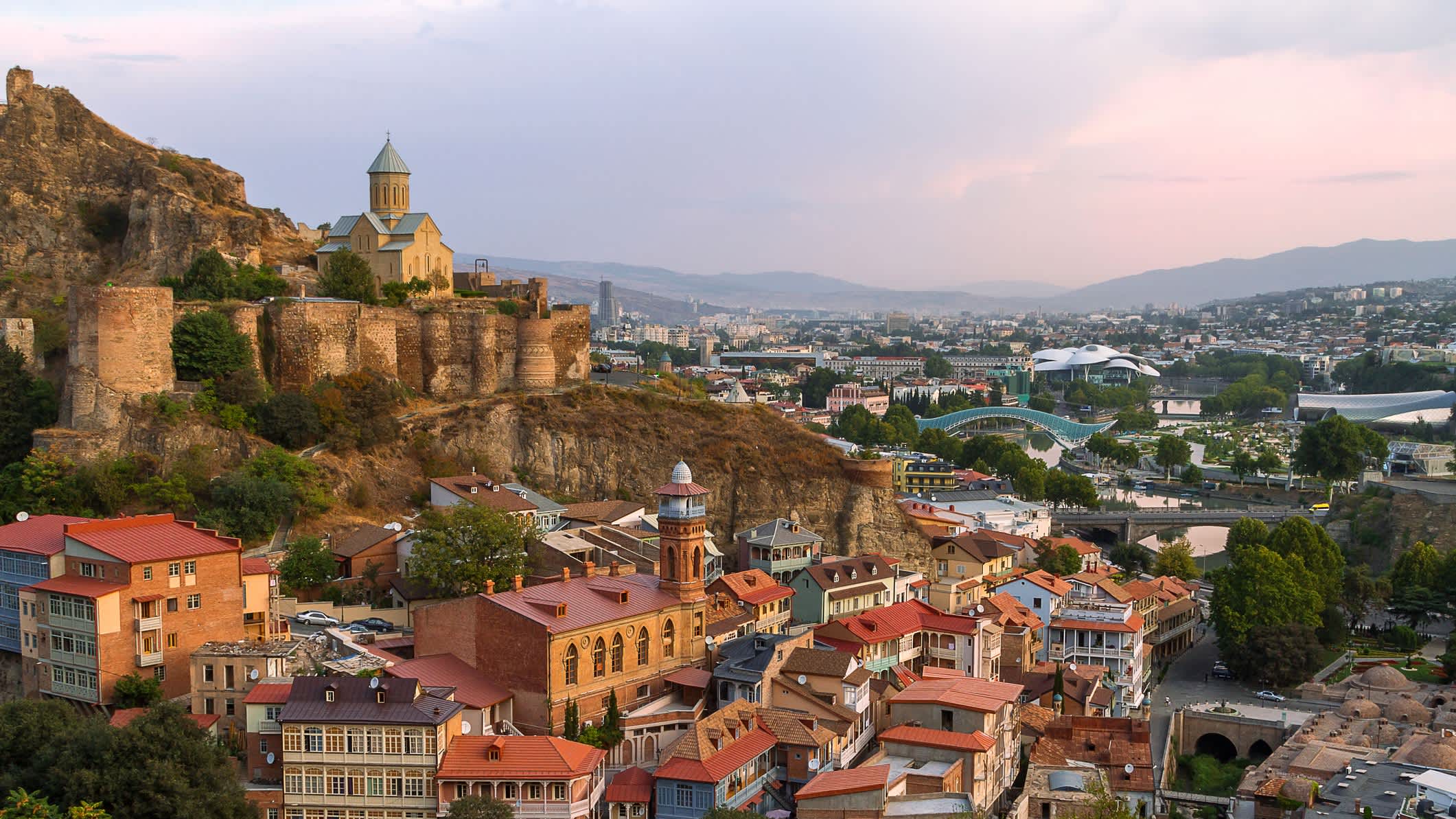 9. Yusufeli, eastern Turkey
Among the challenging climbs of eastern Turkey you find this gorgeous town nestled in a river valley. It takes a great deal of pedal power to reach this place, but I remember clearly how much we all enjoyed our rest in Yusufeli. As a first stop in Turkey it is a great introduction to a culture that is warm and welcoming and a glass of tea or a snack are never far away with vendors and shops scattered across town.
"This beautiful small town is set in the valley of the Barhal Cayi river beneath towering rocky faces and pinnacles. For the hungry cyclist it offers a feast of local dishes on a terrace overlooking the river at the Hacioglu Cag Doner restaurant and a leisurely stroll through its colorful streets and alleys." from our blog in 2012.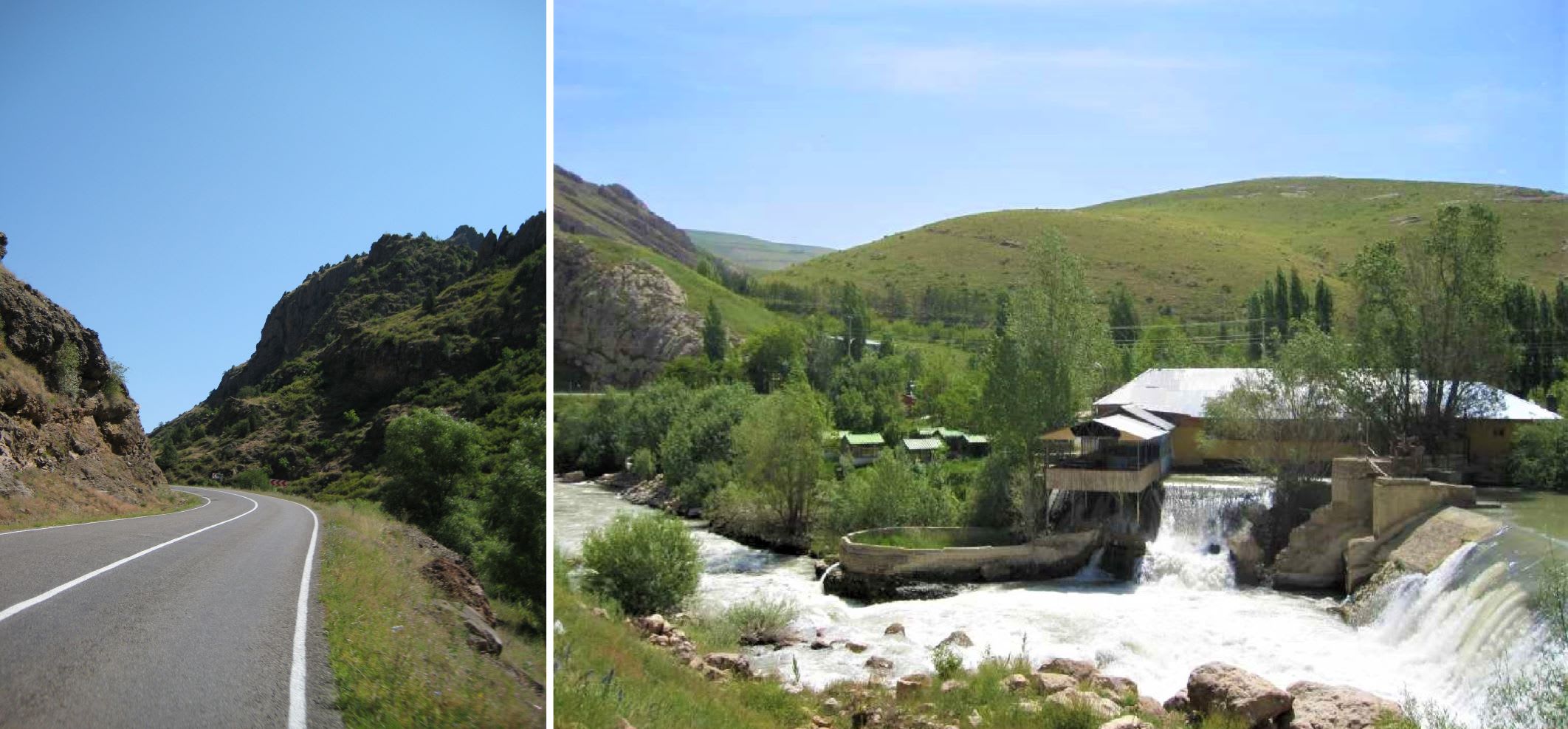 10. Safranbolu
Safranbolu is a gorgeous place that really gives you a feel of times past. It is named for (you guessed it) saffron – the precious spice that is still grown in the area. But it is also recognized for other reasons too…
"Its Ottoman architecture includes the old Çarşı district, with hundreds of preserved, red-roofed Ottoman houses on cobblestone streets. Cinci Han is a 17th-century caravansary with rooftop views over town. Nearby, Tarihi Cinci Hamam is a restored 17th-century bathhouse, still in operation." from UNESCO.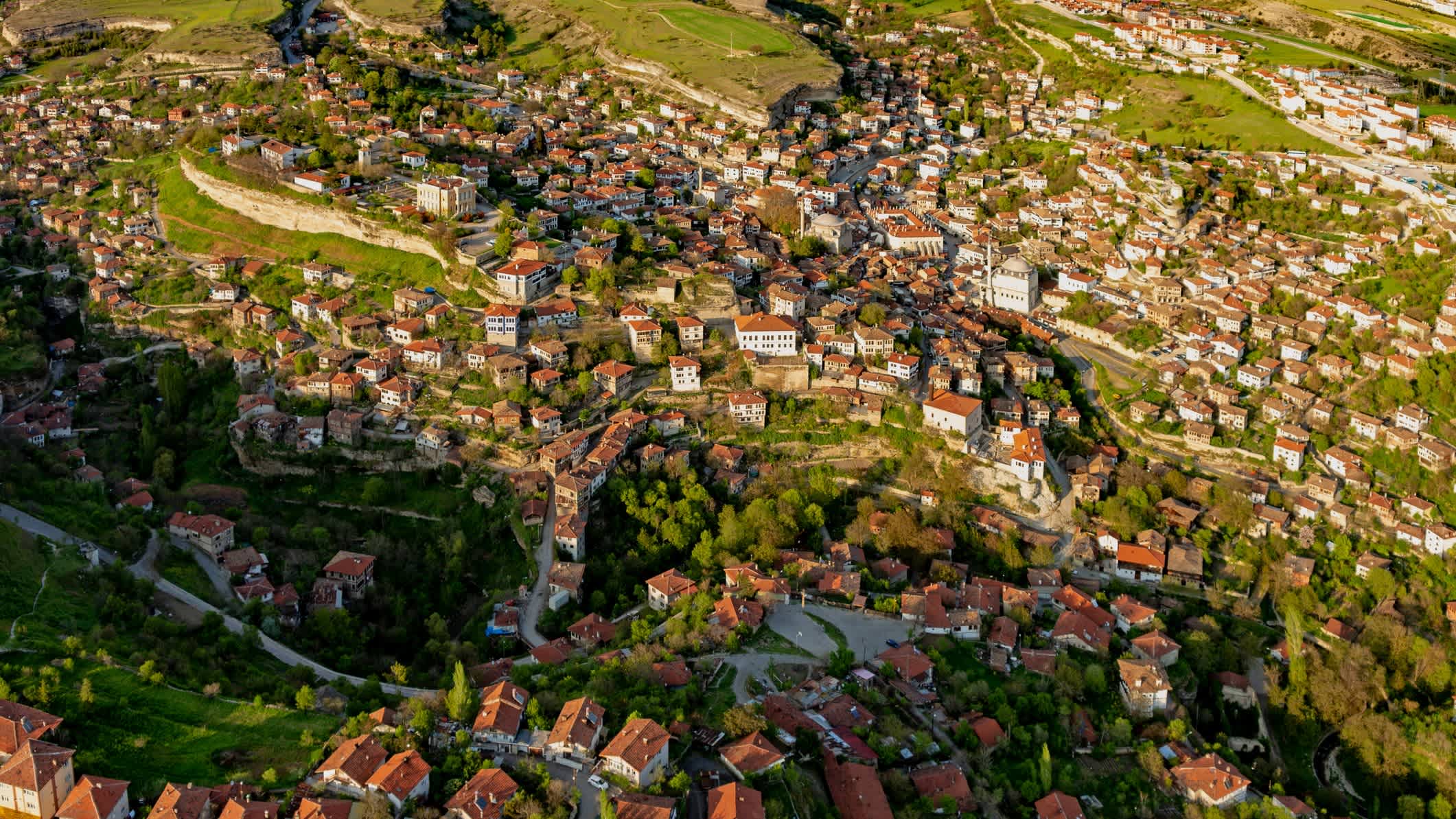 These are a few of the many surprises I found while cycling in this region. It is currently open for travel and I am eagerly anticipating a return to a region I have really enjoyed cycling. I think you will too.
RELATED
TOUR