Blog
REGISTER NOW
LOGIN
SIGN UP FOR OUR NEWSLETTER
The Top 10 TDA Global Cycling Blogs of 2017
Each year the staff at TDA Global Cycling put a lot of effort into creating blogs, blogs that we hope are instructive, creative, funny, entertaining and inspiring. Without further ado, here are the 10 most viewed blogs of 2017.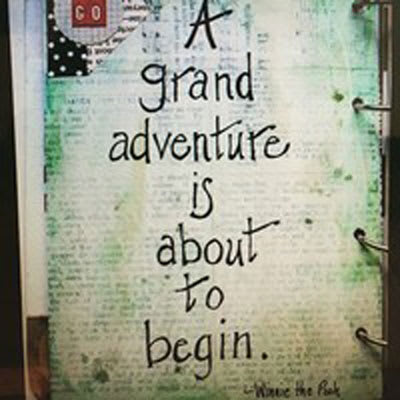 Our readers really wanted to share the experience of cycling from Cairo to Cape Town, living vicariously through the writings of the 2017 Tour d'Afrique riders. It is not always smooth sailing.
"After a night at "death camp" where I projectile vomited inside and outside my tent numerous times I took a day off the bike and spent my first ever day in the dog box (the small cabin on the dinner truck) which we renamed the "vomit comet". Along with 12 other riders we squeezed into a cabin designed for a maximum of 8 over the bumpy Tanzanian roads stopping with alarming frequency for emergency "relief breaks"! It was an all together traumatizing experience and my efforts to cheer everyone up with a game of charades were not well received!"
TDA Global Cycling staffer and Don Vivant, Micah Markson, bravely took on the onerous task of road testing the Kona Sutra LTD on the 2016 Trans-Oceania spending one month pedalling across the Australian Outback, another along the Great Ocean Road and over to Sydney, a third spinning down the length of New Zealand and finally, ten days on rail trails and single-track around Queenstown.
"Two things about the Sutra LTD immediately jumped out at me: the colour, and the extra mounts on the fork. To be honest, I was actually not excited about the blue paint, but it started to grow on me the moment I picked it up from the shop."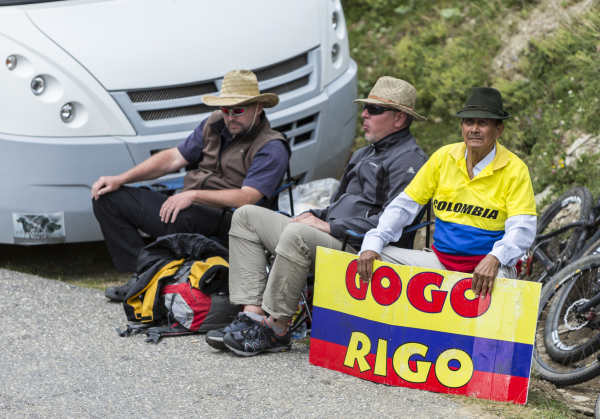 From Narcos and FARC to Ciclovias and Ciclorutas. The people of Colombia have gone loco for cycling.
"I watched as thousands of cyclists of all ages and styles passed in front of my eyes – a sea of cyclists. Street vendors were all selling bike gear – helmets, sunglasses and uniforms. Everything was about cycling. I had never even dreamed of anything like that, but once one of our Dutch riders told me that he also had also never witnessed anything similar, I realized that what I was seeing was absolutely unique."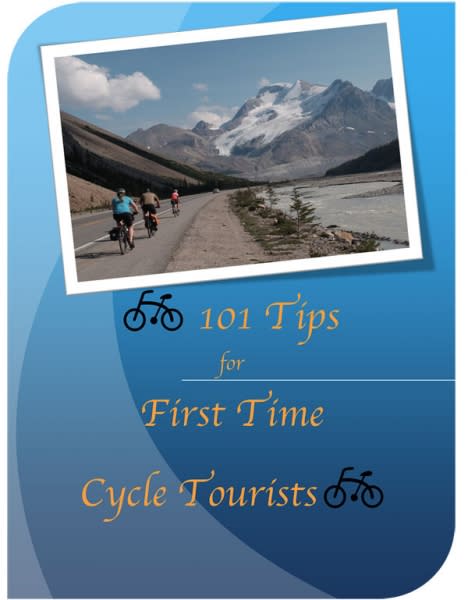 Remember that secure feeling when you first rode your bicycle with training wheels? Well, our 101 Tips document aims to replicate that for first time cycle tourists. Our advice covers everything from #4 Choosing the Right Operator (uh, that would be us!) to #35 Boxing Your Bike (a video featuring an Oscar-worthy performance by our own Shanny Hill) to #92 Alternative Restroom for the Night (Hint – it involves a plastic bottle and a steady hand).
"Doing anything for the first time is hard. Sometimes all you need are some tips from the experts to jumpstart your planning. In the same vein, preparing for your first cycling tour can often be overwhelming."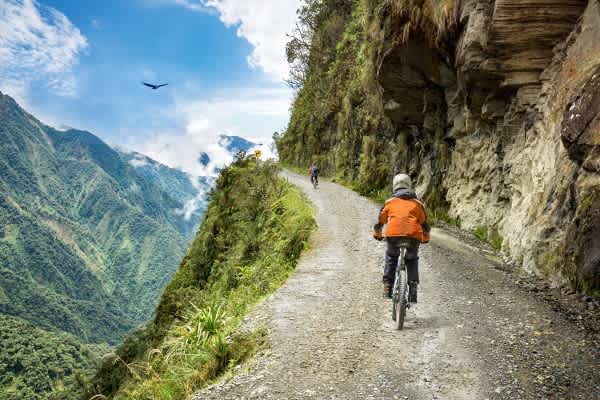 TDA Global Cycling's resident accounting wunderkid, Brian Hoeniger, decided to crunch some numbers and come up with 8 Epic Climbs and Descents in South America, ranging from Bolivia's Death Road to Colombia's Trampoline of Death (do you see a theme emerging?).
"Legendary as the world's most dangerous road until a paved alternative was completed in 2006, "El Camino de la Muerte" attracts thousands of thrill seeking mountain bikers annually. Starting outside the Bolivian capital of La Paz at La Cumbre Pass and a lofty 4650 meters (15250 feet) elevation, this now widened and relatively safer mostly dirt road drops almost 3500 meters (11500 feet), from the Andes to the Yungas rainforest far below, in 63 hair raising kilometres."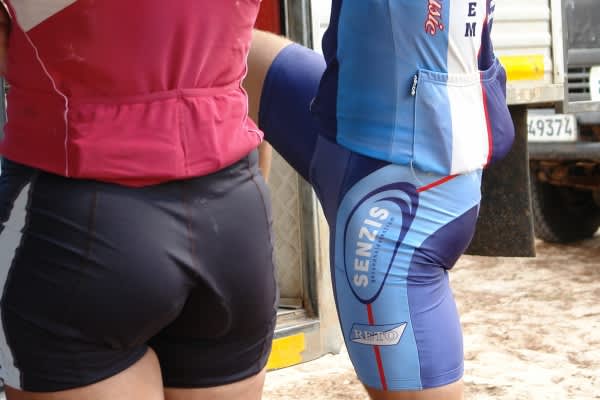 Our 2017 Tour d'Afrique medic, Helen Gertig, learned a lot (maybe even a little too much) about saddle sores, the 'Vomit Comet' and traveler's diarrhea during her 4 month stint in Africa.
"If the saddle sore is not getting better, and the skin is broken, the best thing you can do is to stop cycling! A couple of day's rest will do a world of good, and you will avoid the embarrassment of explaining to an incredulous local surgeon how you created your bottom abscess."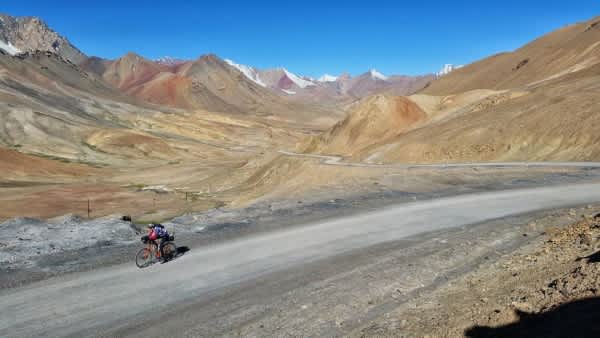 The Andes. The Rockies. The Alps. The Carpathians. The Pamirs. The Himalayas. TDA Global Cycling's expeditions cross many of the world's highest, and most beautiful, mountain ranges. Cycling at elevation is exhilarating and exhausting, rewarding and risky.
"You will likely start to feel the effects of high altitude around 2500m. Everyone feels the effects of altitude differently and will acclimatize differently but almost everyone will feel short of breath with exertion and have difficulty sleeping. The next most common symptom at high altitude is a headache. Headaches will often resolve after approximately 24 hours and can also be treated with anti-inflammatory pain medications like ibuprofen."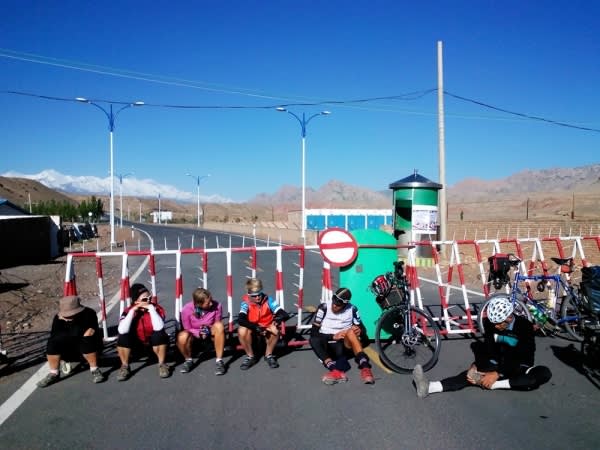 Spending over 10 years organizing cycling tours in countries like Sudan, Iran, East Timor and Honduras has given TDA Global Cycling's Operation Manager, Miles MacDonald a vast knowledge of the byzantine ways of the world's bureaucracies, especially with regard to the seemingly endless red tape surrounding visas and border crossings.
"Plan well in advance, and read the details. Give embassies only the information they want to hear, even if it does not exactly match your planned itinerary. Be prepared to occasionally pay for expensive 'LOIs' (or 'letters of invitation'). Be prepared for visa regulations to change without notice." Oh, and have a little patience.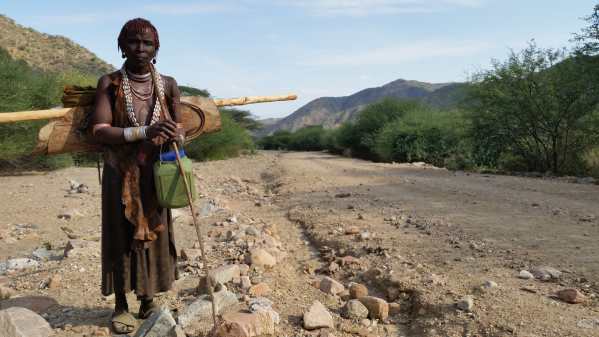 Never ones to pass on an opportunity to switch things up, TDA Global Cycling's team decides to add in a visit to Ethiopia's incredible Omo Valley for the riders of the 2018 Tour d'Afrique.
"The Mursi people are known for their decorated clay plates which are inserted in the lower lips of women. Starting at adolescence the plates eventually become larger, some plates are finally reaching the dimensions of a bread and butter plate."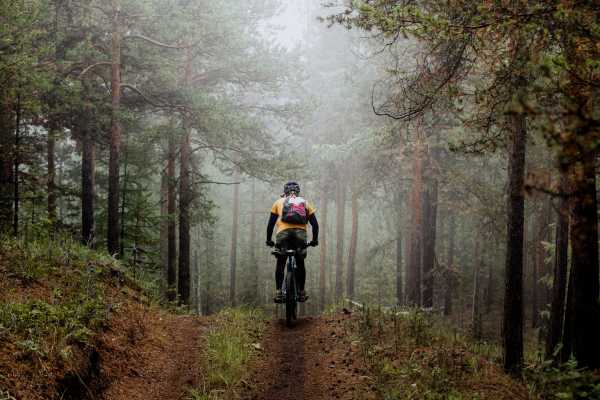 Riders can get over-whelmed by the sheer length and breadth of many of our expeditions. Or they focus on the sections featuring the most spectacular scenery or most famous sights.
"Here is our list of the least noticed and, in our view, highly underrated sections from our many cycle tours around the globe. Get ahead of the trend and check these hidden gems out!"
>>Check out the top 10 TDA Global Cycling Blogs of 2016
Coming soon – Hidden Gems: TDA Staff Reveal Their 10 Favourite 2017 Blogs