Blog
REGISTER NOW
LOGIN
SIGN UP FOR OUR NEWSLETTER
Cycling South America: 8 Epic Climbs and Descents
Feature photo credit: Antonio Olinto Ferreira
Over the past 10-20 years, as cycle touring's popularity has taken off, so too have the numbers of long distance adventurers who have set their sights on South America. With most countries on this vast continent having transitioned from military dictatorships to democracy and freedom, South America offers a refuge from the insecurity or overcrowding that characterize much of the world today.
>>Learn more about our supported cycling tour across South America
Stretching from top to tip, the Andes Mountains form the continents backbone and provide the backdrop for the routes taken by most trans-continental travellers on two wheels. En route along the roughly 13500 km from Colombia to Tierra del Fuego, or just a portion of this most ambitious of itineraries, one will inevitably encounter some mind-blowing climbs and descents. Here are 8 of the most epic:
1. Bolivian Death Road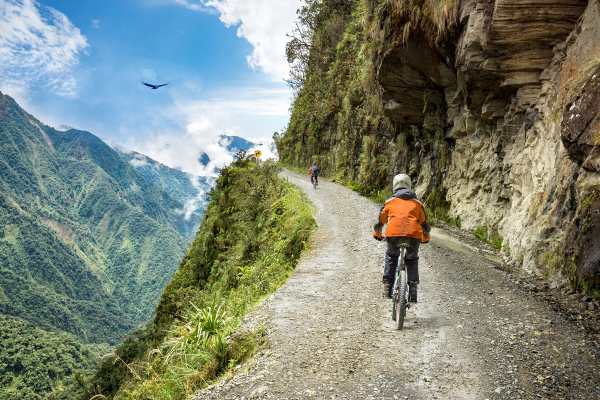 Legendary as the world's most dangerous road until a paved alternative was completed in 2006, "El Camino de la Muerte" attracts thousands of thrill seeking mountain bikers annually. Starting outside the Bolivian capital of La Paz at La Cumbre Pass and a lofty 4650 meters (15250 feet) elevation, this now widened and relatively safer mostly dirt road drops almost 3500 meters (11500 feet), from the Andes to the Yungas rainforest far below, in 63 hair raising kilometers. In the past, countless lives were lost every year when vehicles (particularly busses) went careening over the edges of the 3,000-foot cliffs that line the road. Sadly some 25 cyclists have met the same fate. For the fainter of heart and saner of mind, Gravity Bolivia offers professionally guided daily descents, and advises that the road is best not tackled during the mid-December to early March rainy season when downpours, fog, washouts and other pitfalls are encountered.
2. Alto de Letras, Colombia
to-600×285.jpg" alt="Alto de Letras photo" />
photo of celebrating cyclists by Alejandro Jimenez / Instagram @goandride
Ever wonder how Colombian riders like Nairo Quintana have joined the ranks of the world's elite cyclists? All you need do is stare at a topographic map of their backyard. Alto de Letras is renowned for being the hardest cycling climb in Colombia – it's included in the Vuelta a Colombia and is one of the longest paved ascents in the world. Starting in the small town of Mariquita it rises almost 3200 meters (10500 feet) over 80 km to the Páramo de Letras pass. Don't be fooled by the average gradient of 4%, much of the ascent is 6-9%, with stretches of 10%+, but there is a short downhill every few kms when you can catch your breath and wonder what the hell am I doing …
3. Departing Nazca Bound for Cusco, Peru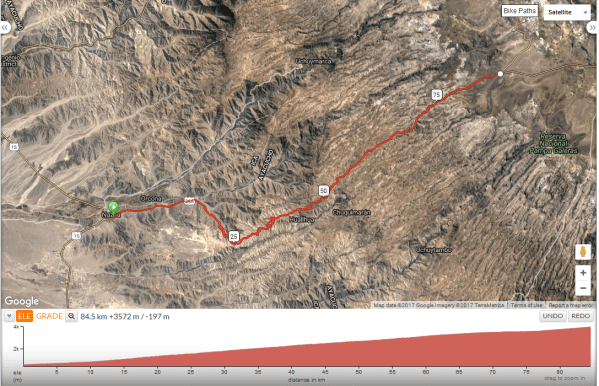 Two of Peru's greatest attractions are the Nazca Lines, and the city of Cusco, former capital of the Inca Empire and the gateway to Machu Picchu. Both are must do's on any trans South America cyclist's bucket list. If you're peddling out of the town of Nazca, the Andes loom ahead, and over the next 85-90 kms you face a daunting climb from the lowlands to the rarified air of 4000 meters above sea level. Those who have been along the Peruvian coast, or in the Nazca valleys for a while, must take this stretch slowly and carefully to ensure acclimatization and avoid altitude sickness. Of course, if you're spinning in the opposite direction, it's a seemingly endless downhill …
4. Trampoline of Death, Colombia
ton on the Trampoline of Death" />
This ominous moniker has been given to the gravel road that connects the departments of Putumayo and Narino. On a brighter note intrepid cyclists also consider it to be one of Colombia's most beautiful routes. Predictably the journey is both dangerous and breathtaking, due to the steep climbs and frequent landslides, as the road winds rapidly upwards through jungle to cloud forest, past mist-shrouded waterfalls, and ultimately onto the páramo.
>>Related: Cycling the Trampoline of Death
5. Aconcagua, Argentina/Chile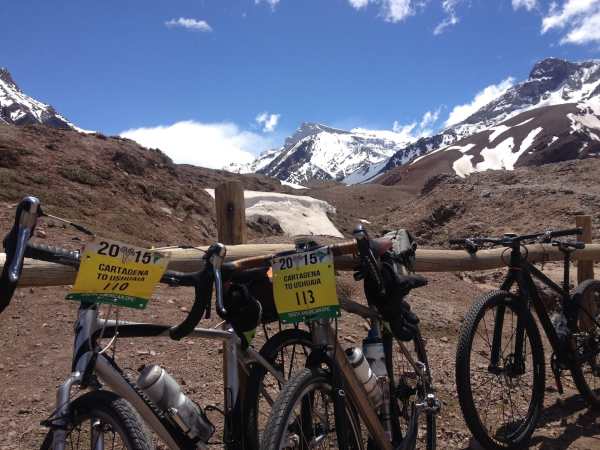 The largest border crossing between Argentina and Chile is located a mere 20 km from the summit of Aconcagua, the tallest peak in the Andes range at 6960 meters (22830 feet). Starting on the Argentinian side in the village of Uspallata you'll gradually ascend 1200 meters on tarmac to the frontier at Las Cuevas, where most cycle tourists spend the night, before cruising down the Chilean side on a spectacular 2350 meter descent with 29 switchbacks into the town of Los Andes. Try to pick a day when clear skies are forecast so you can catch a glimpse of almighty Aconcagua at km 72. The drawbacks are this is a busy highway with several tunnels and unpredictable winds and weather, so warm reflective clothing and lights are a must, plus you'll have to catch a ride through the Tunnel Cristo Redentor at the border which cyclists are not permitted to use.
6. Volcano Alley, Ecuador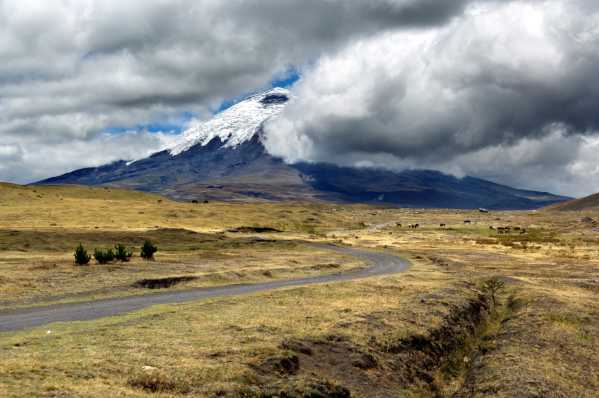 Volcano Alley refers to a 300 km/180 mile stretch of the Ecuadorian Andes near the capital city of Quito that includes all of the country's highest mountains. Riding the 90 kms southbound from Quito to Latacunga will take you past Cotopaxi, the most infamous in this chain of active and foreboding volcanoes. While this portion only involves 1750 meters of climbing and descent, you'll be challenged by the altitude of 2500-3500 meters and wowed by the vistas, presuming Illapa, the Inca god of weather, is with you.
7. Abra el Acay, Argentina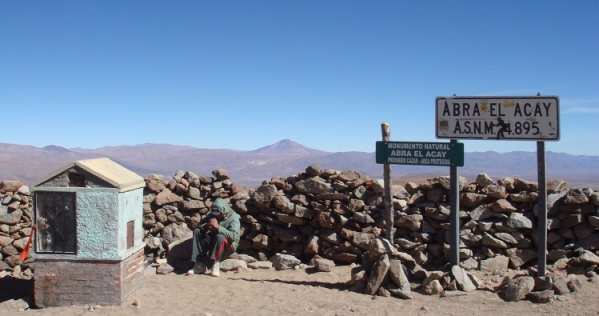 photo credit: DiverDave Wikimedia Commons (cc by-sa 3.0)
In 2000-01 Brasilian Antonio Olinto Ferreira undertook a 3000 km 2 month trek, the here.
8. Reserva Nacional Cerro Castillo, Chile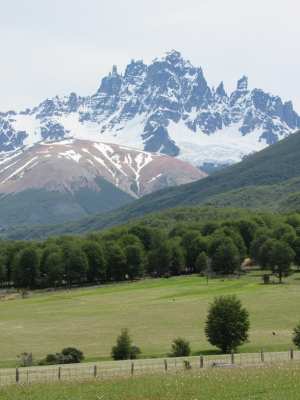 Not all cycle tourists relish massive climbs or riding at high altitude. With them in mind we include the southbound descent into or northbound climb out of the hamlet of Villa Cerro Castillo. Located 100 km south of the small city of Coyhaique and close to the midway point of the iconic  Carretera Austral, you'll be awed by the views of castle shaped Cerro Castillo mountain, as you zoom down or grind up 440 meters of elevation change over a 6 km stretch.
Further Resources and Citations
to.com.br/
http://www.dangerousroads.org/bolivia/44-death-road-bolivia.html
http://theclimbingcyclist.com/
http://seecolombia.travel/
Brian Hoeniger works for TDA Global Cycling. You will find some of these climbs and descents on our South American Epic, the only organized cycling expedition to traverse the continent from top to bottom.